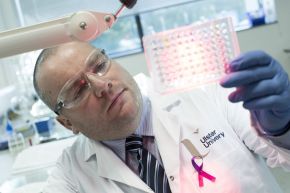 Ulster University's Professor John Callan
led the team of researchers who made the
pancreatic cancer breakthrough.
CANCER DIGEST – Nov. 22, 2015 – A new approach using sound waves to destroy cancer cells is showing promise for treating pancreatic cancer.
The treatment, called sonodynamic therapy (SDT) is the latest in a long line of approaches for delivering a toxic blow to cancer tumors without harming healthy tissues.