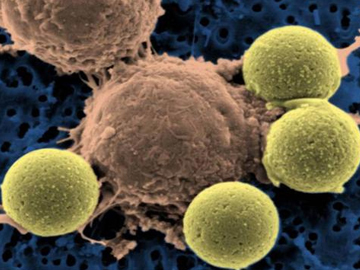 CANCER DIGEST – July 15, 2017 – A FDA advisory panel unanimously recommended approval of a gene-altering therapy for a deadly form of childhood leukemia. If given final approval, it would be the first such drug in a new class of therapy called CAR T-cell therapy.
The therapy involves immune system cells collected from the patient's own blood that are genetically engineered to produce special receptors on their surface called chimeric antigen receptors (CARs). These proteins allow the T cells to recognize a specific protein on tumor cells. These altered CAR T-cells are then grown in the laboratory into millions of copies and re-infused back into the patient.

The form of the therapy called Tisagenlecleucel, or CTL019, for which Novartis is seeking FDA approval is intended to treat relapsed or unresponsive acute lymphoblastic leukemia (ALL) in children and young adults from 3 to 25 years old. According to the FDA briefing document, relapsed ALL affects about 620 patients a year in the US.

The panel recommended the approval of CTL019 based on three clinical trials designed to determine safety and define the optimum dose in a total of 147 patients. The first two studies showed the drug persisted in the body for up to 780 days when the study published. The second showed the therapy, which involves a 22-day process that requires blood extracted from the patient be shipped to a lab in New Jersey for alteration and then shipped back to the patient, could feasibly done on multi-center clinical trial.

The third study was an interim analysis of 63 patients with three months of follow-up that showed 82 percent responded to the treatment or went into remission, which is a high rate of remission for such a severe disease. In one study with some patients followed for as long as 40 months, one-year survival rate is estimated to be 80.6 percent, and two-year survival might be as high as 62 percent, which is extremely high for such a disease.

Like early bone marrow transplantation, the side effects can be life-threatening and include severe fever, chills and low blood pressure, and requires intensive care. The cost of the therapy is also expected to run to $100,000 or more.
Sources: FDA briefing document, Children's Hospital of Philadelphia